Brake Repair
Your car's brake system is a complex grouping of parts which serve a critical role in keeping you safe. No other system in the car is as important for your safety. Keeping your brake system in tip-top shape should be your top priority.
From the brake pedal to hydraulic brake fluid, brake master cylinder to power brake booster, drum brakes to disc brakes and electronic anti-lock brake sensors, Sunoco brake repair technicians know every part of your brake system inside and out.
Call Today to Find Out More About Brake Repair and Brake Services For Your Specific Vehicle and Mileage! Or Click Here to See Our Current Internet Only Specials!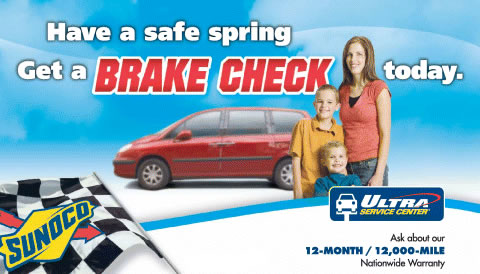 Brake Repair Tips:
Front brake pads provide up to 70% of vehicle stopping power. In general, front brake pads wear out twice as fast as rear brake pads, 2 to 1. Disc brakes have a definite braking power advantage over drum style brakes and performance is not compromised as much when wet. Some disc brakes utilize cooling fins in-between the braking surfaces to maximize cooling efficiency. Replacing brake discs can vary depending on the make and model of car or truck, two wheel or four wheel drive. Always replace brake rotors with top quality or OEM (original equipment manufacturer) brake rotors, some less expensive brake rotors can squeak and not dissipate heat as well because of their inferior metal quality.